One on One calls via Watch (like a smart watch)
Everything we need to do menu wise is done through the watch as is, to the point of it being considered a smart watch. A feature that allows us to call each other in a way for one on one voice chat, regardless of what room we are in would be nice.
Merged in a post:
PHONES
Add phones instead of watches where it's almost the same thing but you can call or video chat... video chat wud be pretty cool! Also on a phone you wud be able to see what other ppl r doing!!
Merged in a post:
Video chat!
You could have 3 different options: POV¹, watch², and 3rd person³.
1: you see what the player sees
2: you see what the watch faces (should be held like a watch, switches automatically to POV if watch gets closed)
3: you see the player, but from an orbital view (you can rotate freely, and when the camera hits an obstacle, the camera will approach the player (like GTA V))
Edit: forgot to clarify that the video chat should be started in the "people" tab on the watch, and you could choose to put on vibration mode, silence mode or ring tone (tone + vibration)
Merged in a post:
New Way of Communication
Introducing... The RecPhone!, The latest invention of the engineering department.
-=Features=-
~Mesageing
Messaging has now been moved to the phone. it functions the same but now you can send pictures with a new button on the camera (explained in the GIF)
~Calling
Finally the people from the engineering department have found a way to be able to chat between rooms!, This is mostly explained in the GIF below.
~Holotar
Its basically voice chats, but in the style on the little preview character on the profile menu.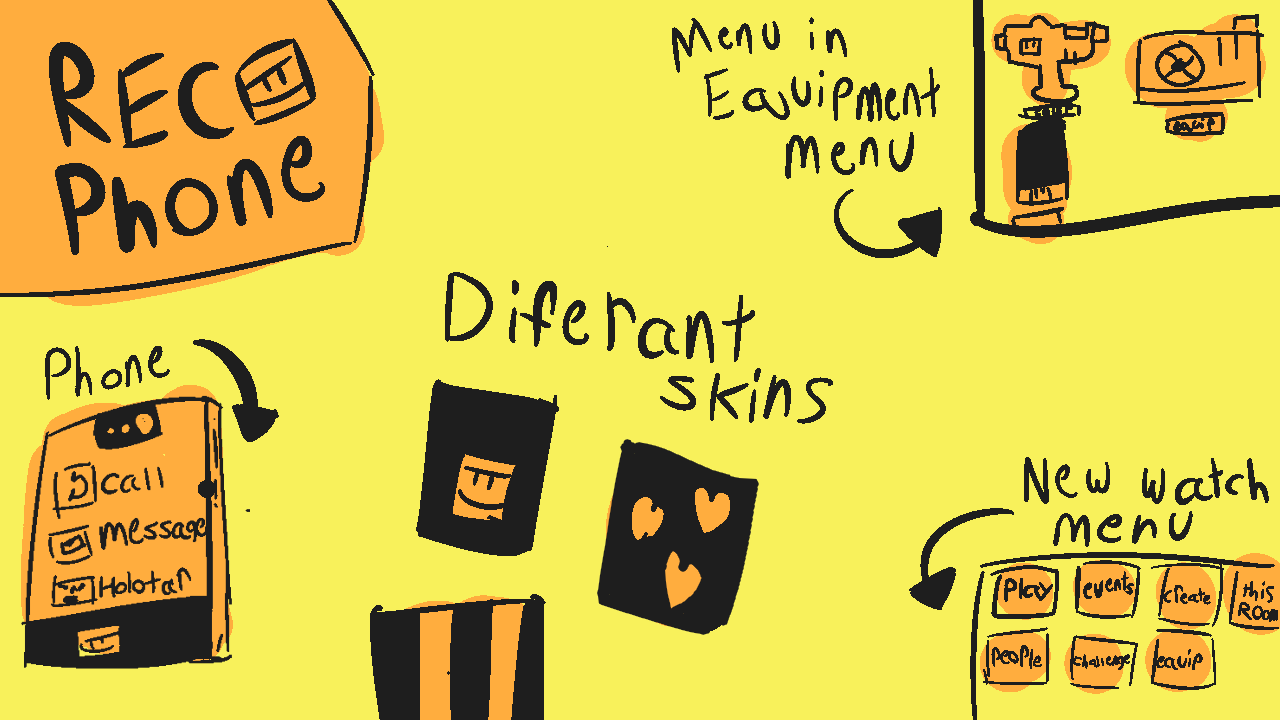 Merged in a post:
Video chat
So, with the message app in the watch menu, there should be a new function where you can video chat with your friends, even when your watch is off, and/or your going to a new level without them, this would be more convenient than starting up a separate party (especially if you and your friend are playing on a different system), or having to stay in the same server to talk with each other, since voice chat really isn't the best in rec room
Merged in a post:
Calling in recroom
It would be a cool feature to add a way for you to call your friends in a different room. And you could see their avatar and talk to them but other people could call them and make a group call and you could party up through the call. It's basically if someone is in a full room or in a private one you could call them and talk to them real fast instead of taking a while to message them or wait for their room to open up. It would be a nice feature